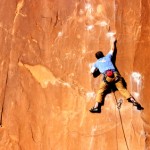 Doing great things doesn't come naturally.  It requires an internal drive and often it also requires some external demand.
Several years ago I had the privilege of watching a senior executive challenge a small team intent on developing a new business.  They were entering a new market, one that didn't exist.  It was expected that many competitors would enter the market at the same time.  Their plan was a little tentative since there was no history in the new market.  They predicted that their market share would be ten percent after a year.  He then asked a very critical question, "What would it take to get to twenty five percent market share?"
The team had limited themselves and their thinking.  So they went away, regrouped and came back with a plan they thought would achieve that goal.  A year later they had twenty three percent of the market and were becoming the dominant player.  It took a lot of hard work, but it also took thinking differently about how they would approach the market.
During strategic planning sessions, it is easy to set your goals too low because you know too much about constraints.  You know about a lack of resources, potential competition, and other limitations.  So you tend to average down.  There is nothing worse than a group that begins to re-enforce itself on what can't be done.  The lesson is that you don't have too.  Separate opportunity from limitations then figure out how to overcome the limitations. Challenge yourselves.
Do Great Things!
Lee Stocking
Prairie Sky Group
Making Sales Cry With Qualified Leads
lee.stocking@gmail.com
651-357-0110 (Cell 24×7)