L. Hobart Stocking works with senior executives to increase top line revenues. He has built businesses from startup to upwards of $40M for such companies as 3M, Kodak, Imation, and others.
I believe.. the truth is more powerful than your ego.
I can… always find a number of viable solutions to any problem.
Latest Accomplishment… just published an e-book on How to Hire High Performance Sales People.
Making a difference by… helping kids play soccer.
Quote me… You can't put a duck bill on a beaver and call it a platypus.
Next Challenge: Introducing the CEO of Gorilla Glue to the head of the Dian Fossey Gorilla Fund International.
Seven words that describe me:
Father
Experienced
Creative
Analytical
Driven
Curious
Ironic
Is that seven?
His Passion
Hobart loves motivating and helping sales and marketing teams work together to get top line revenue growth. Clients often say that he thinks strategically and acts tactically. He uses a combination of experience, strategy, and focus to drive sales and marketing results.
Hobart is also able to take complex issues and ideas and reduce them to their elements so decisions can be made and actions taken.
His resume is reflected in the simple diagram below: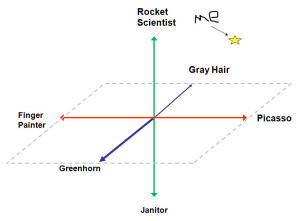 Personal Profile
When Hobart is not involved in sales and marketing, his passions have allowed him to:
Sail the Atlantic
Kayak the Augsburg Olympic whitewater course
Teach an Inuit village to play Frisbee
Climb Mount Kenya
Hike across the Grand Canyon