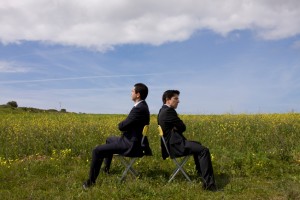 A CEO of a $50M SaaS company is faced with a strategic implementation problem. In order to recognize his strategic vision of double-digit growth he has challenged his sales team to get so many orders that his implementation team leader literally cries.
Failure of managers to work across disciplines to implement strategy is one of the top three killers of strategy. After working to develop a great strategy and plan, you've communicated and helped your organization understand the strategy. Then you've put performance standards in place. Your objectives are cascaded. It's what happens next that's important to your success.
80% of managers say that their objectives are limited, specific, and measurable. An incredible 84% say that they can count on their bosses and their direct reports to support them in working on the strategic objectives. But here's the rub. Only 9% say they can count on a colleague in another discipline all of the time. And only 50% say they can count on them most of the time! (Donald Sull, Rebecca Holmes, Charles Sull -HBR Mar15)

Consider the ramifications. Sales waits on marketing to launch a new campaign. But marketing is waiting on development to release the specs. Compound interactions and delays will kill the launch. Of course it's nobody's fault. Everyone has a valid reason or rationalization.
Here's what the CEO in the "Make Implementation Cry" situation above did to solve his problem. He brought all the leaders from each of marketing, sales, development, implementation, and service together. He'd made sure that they all had a common objective and reward for hitting the vision when the strategy launched. So he congratulated sales for making implementation cry. He reminded them that they weren't going to make their bonuses if they couldn't figure out how to help implementation because their bonuses were tied to revenue that wouldn't be recognized if their software wasn't installed. Within an hour the team had figured out a solution. Marketing would give implementation $200K to hire more installers and trainers. Problem solved. They hit their year-end mark.
Is your strategic implementation hanging fire because different departments aren't working together? What did this CEO do? Here are a few solutions to the inter-department strategic implementation killer:
1.    Make sure your team has the same key objectives and rewards.
When a new strategy is launched many hang onto the old strategy. You can't have a tacit strategy and an official strategy. Everyone needs the same strategy, objectives, and rewards.
2.    When you launch a new strategy and plan, makes sure you've budgeted for it.
One reason strategic plans fail is for lack of budgeting, both financially and resource-wise, as well as management attention. When you add new objectives or work, have you also budgeted for it or taken something off the table? Many managers complain they can't support new initiatives (or cross-discipline efforts) because of this.
3.    Try Agile Development across other disciplines
A solution to doing many things poorly or slowly is to do one thing really well and fast. If this is supporting a new strategic initiative or another discipline then your rate of success is improved. (see the Prairie Sky Group e-Book on Agile Marketing)
4.    Hire for Teamwork
More than all of these there is one thing that the CEO did in this example. He made sure that one of his company values was teamwork, and he hired for it. Marketing didn't see giving up part of their budget as an obstacle because they were wired to work as team. They all knew they had each others' backs. Look at your core values if your have cross-discipline issues in supporting your strategic initiatives.

Solve the cross function issue and you'll be well on your way to a successful implementation of a new strategy. How many other solutions to this problem are there?
Do Great Things!
Lee Hobart Stocking
Founder
PrairieSkyGroup.com
hobart@prairieskygroup.com
651-357-0110 (C)