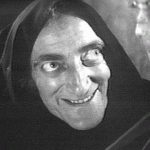 How long do you think you have to make a good first impression?  Yes, the number may depress a few of the less confident out there.  Various studies say the number ranges from three seconds to thirty seconds.  These impressions then often guide other's opinions of us regardless of how hard we work to change them.  As "they" say, you never get a second chance to make a first impression.
Why?  The answer is simply that this is the way our brains are wired.  We make snap judgments because it has somehow helped us survive, pick a better mate, avoid a harmful conflict, or negotiate a better position.
Even in the digital world, many inbound and outbound marketers forget the axiom about first impressions.  It's especially true when encountering trigger events, such as registering for a newsletter or webinar.  However, unlike your hunchback, there are things you can do to make a good first digital impression.  Here are five steps.
Step 1.   Be responsive
Marketing Sherpa data says that immediate response to a trigger event will get you double the response rate compared with waiting twenty-four hours.   Fall-off continues with more time.   If you are batch and blasting or filtering trigger events, you are losing traction and should consider an automated response.   Simple thank-you emails with a little personal touch (hope you enjoy the webinar, or let us know if you have specific questions) go a along way toward establishing trust.
Step 2.   Deliver value
Nothing pleases prospects more than getting something of value they didn't expect. Sure they registered for a webinar, but what if you gave them a complementary whitepaper or assessment in your response?
Step 3.   Be explicit about your communications
Let them know how frequently you will communicate, what you will communicate, and how you will protect their information.
Step 4.   Open the door
It's also important to make sure they'll receive your communication.  A step to ask them to white-list you or test your communications guarantees that your email will get through.
Step 5.  Keep your communications short, sweet and relevant
Really.  Respect your prospects.  Just because you have their email doesn't mean they want to see the latest photo of your new CEO.  Underscore relevant.
Do these things and soon you'll have enough clients and customers to have that hump removed before face-to-face meetings.  What hump?
Do Great Things!
Lee Stocking
Prairie Sky Group
Making Sales Cry With Qualified Leads
lee.stocking@gmail.com
651-357-0110 (Cell 24×7)