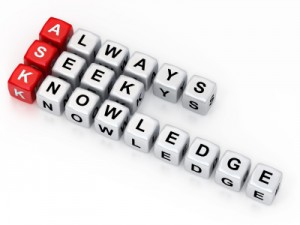 I recently had a meeting with the CEO of a small $3M company.  He wanted to increase sales.  When I asked him what was keeping him from increasing his sales he mentioned that he was limited by his inventory, or rather matching the right inventory to the right customer.  I asked him how much he thought he could increase his sales if he wasn't restricted.  He said he thought he could add $250-300K easily.
I didn't really know much about his business, but since I wasn't restricted in my thinking by his experience, I was able to give him a simple solution, and it didn't cost him a thing. His business was regionally based.  So I asked him if he knew his competitors in the surrounding states.  He did.  I then asked him if he'd ever gone to a car dealer that didn't have the model or color he wanted.  He said yes.  What did they do for him?  They called a neighboring dealer and ordered the model in the color he wanted.  I suggested he could do the same by setting up a cooperative inventory-sharing program with competitors outside of his area.  They would have similar inventory issues and could even buy from him.
Why couldn't he think of this?  It's hard to say.  We all get tunnel vision.  We get busy doing the linear things that keep the business afloat.  Or maybe we don't have a process for identifying and solving issues.  So they just continue to get in our way.
That's the reason it's valuable to network and expose yourself to outside thinking. Make it a habit to get an outside opinion.
Do Great Things!
Lee Stocking
Prairie Sky Group
Making Sales Cry With Qualified Leads
lee.stocking@gmail.com
651-357-0110 (Cell 24×7)