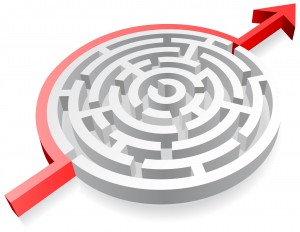 In Web Tactics versus Web Strategy, I emphasized that your web strategy and business strategy may need to become one in the same.  But what is it you should try to accomplish in your web search strategy?
When it comes to organic search, there are a number of objectives on which you should focus.  These are all part of my overcoming resistance theme.
First, of course, is getting found or being discovered by search engine crawlers so you can show up in indexed results.
The second is having a site architecture that is crawler friendly.  You can be discovered, but present unintentional barriers to indexing and ranking your pages.
Once the page is found and accessible, your content needs to be available or extractable.  For example, the image of the webinar blurb you inserted in your sidebar may not help.
With these first three items, it seems like we are responding to search engines rather than people.  So the fourth item becomes the first and most important item.  You need to make the information on your page useful to people you are targeting and easy to read.  One way to do this is to provide Quid pro Nada.  But it's also important to make content that can be scanned as well as read.  I often see word dense content littered with SEO terms.  (A sin I commit too often.)  My reaction is to flee quickly.  Life is short.  About three seconds short.
One little tool to check out for readability is The Readability Test Tool.
If you've done the first four steps, your last step is getting your visitors to take action or convert.
In the end, you are optimizing your page for people, not search engines, because people decide if they want to convert, and they decide whether to become clients or customers.  Create compelling content.
Do Great Things!
Lee Stocking
Prairie Sky Group
Making Sales Cry With Qualified Leads
lee.stocking@gmail.com
651-357-0110 (Cell 24×7)