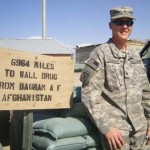 Let's say that you are a drug store owner in a small town.  Business has been good, but the freeway has just bypassed Old Route 7, which runs through town and past your store.  In addition, the town mine has played out, and people are moving away.  What do you do?
This is essentially what is happening to many businesses as the result of the Internet.  Yet, when I talk to B2B executives about their Internet efforts, I get three different responses.
The first group, let's call them Luddites, doesn't have the willingness, the time, or the resources to focus on their web presence.  While they may have a website, it is little more than a cardboard storefront.  They still believe that their current marketing approach will work, and they are riding this horse hard, even though their businesses are increasingly failing.
One of these little drug stores has figured out a way to get found and motivate people to drive five miles off the freeway and stop.  It's called Wall Drug.  How did they do it?  They put up signs all over the world and made their business a novelty.  Imagine, they offer free ice water.  It took a long time and cost a lot of money for the signs.  The other 20,000 drug stores in small towns didn't do as well.
The second group, call them the Reluctants, believes that the web is sort of a necessary evil.  It's complicated, and they pay some technical geek to do some SEO and "stuff."  Sometimes they are proud of their site, though they don't know how to measure the results of their investment.
One of these drug stores formed a chain, put up a store on every corner, and got bigger through volume and lower prices.  Their cost structure is wacked because of the cost of their physical presence.  They have some Internet services.  They can be found online.
The third group, call them the newly Awakened, understand that their business strategy and their web strategy are irrevocably linked.  The world has changed.  They are seeking to change their business model and gain access to this new world.
One of these drug stores decided to take a different approach.  They decided to use the Internet to access those that were looking for solutions to particular health problems or access to particular drugs.  They sell online, but they decided to improve the customer experience online and offer access to pharmacists and even doctors, if needed, at no extra cost.  They deliver anywhere in the US, anytime, even after normal hours so you don't have to get into your car.  Their prices are competitive, and they honor every major form of insurance.  When you can't afford it, they will help get your drugs paid for.
There is a difference between doing a little Internet and embracing it.  Just as there is a difference between SEO and Web Strategy.  Strategy doesn't just change the tool from a sign post in Afghanistan to the Internet, it thinks about the way potential buyers find, access and experience the relationship with your business whether you are online or not.
The biggest mistake I see around inbound marketing is the confusion between SEO or getting found, and the experience and customer relationship in the interaction.  You can get found with SEO, but no one will visit you on the net if you don't have a sound strategy.  For example, you may have all the keywords you need, but if you don't write for people and offer them something useful, no one will spend any time on your page or convert.
Start with a strategy.  Strategy for the web, as with any strategy, has to be pervasive across your organization.   And it has to be more than just a set of tactics or SEO.  Though free ice water sounds good.
Do Great Things!
Lee Stocking
Prairie Sky Group
Making Sales Cry With Qualified Leads
lee.stocking@gmail.com
651-357-0110 (Cell 24×7)