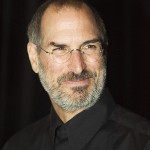 I see Steve Jobs is in the news again regarding his health.  I hope he can come back from what appears to be an extension of a serious health problem.  He is an iconic figure in American business and few companies have such a connection, culture and success driven by their CEO.
I once got a job offer from Steve Jobs.  I say this not in the "My mother petted Secretariat" sense because I hate name dropping.   But his name in the news got me reflecting on our conversation and the value of doing what you are passionate about.
I'd received an offer from Alvy Ray Smith of Pixar to come and help them with the practical aspects of marketing what was a very nerdy technical product.  I was dubious of their budget, focus and willingness to change.  At the time Pixar was a recent spin-off of Lucas' Industrial Light and Magic and had just been acquired by Jobs.   I got a call from him one night urging me to take the offer.   I had two reservations.  The first was that Jobs had a terrible reputation for meddling and being a tyrant.  I had this on first-hand experience from a friend that worked directly for him at Apple.  I was worried about my freedom and budget to do what I thought needed to get done, though I could see living in Marin county. The second was that Pixar's stock options were something I wouldn't offer a janitor.  I used the second in the negotiation, and we failed to come to terms.  It was fifteen years before the options actually came to fruition.
At the same time, I'd received another offer from a $50M (3 year investment) startup at Mead Imaging.  They were recruiting smart people I knew from all sorts of fields.  However the technology was very dubious.  I'd done a lot of research and was skeptical when they told me that I had to suspend judgment on the technology because that wasn't my job.   For me, I don't need to control everything, but I do need to believe.   We also did not come to terms.  They closed their doors 30 months later when the technology failed to prove viable.
I wound up staying with my current company and taking a slightly different assignment with someone who simply said… I believe in what you've started, and I want you to finish it.  You get to do important work, have broad responsibilities and the budget as well.  The assignment led to a game changing product that sold $20M over two years.  It was incredibly hard work, but a lot of fun.
Hopefully you will get the chance to do a lot of great things in your career whether it's in sales or marketing.  You can only make your decisions based on the information you have at the time.  But more than money, technology or who's your boss, it's worth doing what you're passionate about because otherwise it will be a drag, and you won't be any good at it.
I talk to a lot of people that are recession-bound in positions they don't particularly like.  I sometimes say to them that I don't particularly regret my decisions. Most regrets are around the things I didn't do, but this doesn't include turning down Jobs.  What I do regret is what I haven't dared to do.  Daring to do something takes a whole other level of guts and passion.  In this case it was not arguing with him on the budgets to get done the things I thought needed doing.  I don't know him at all, but I learned something from our brief connection.  I get the feeling he always dares, seldom compromises, and has unquestionable passion.  Maybe this is what makes him the iconic hero of business that he is.
Godspeed Mr. Jobs.
Lee Stocking
Prairie Sky Group
Driving Sales Through Customer Focused Marketing
lee.stocking@gmail.com
651-357-0110 (24×7)